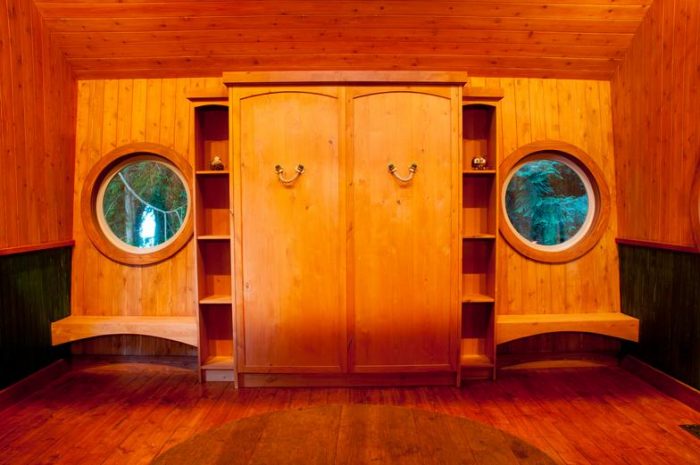 Since founded in 1990, Coyote Hollow Construction has been involved in a number of unique projects, showcasing our distinctive skillsets and abilities. We view each construction and remodeling project as an opportunity to demonstrate our creativity and make the most of our artistic spirit. We've worked on a number of noteworthy custom home projects, including the Owl House, in Kitsap County, WA.
As a versatile custom builder in Poulsbo, WA, we've contributed our skills and expertise to distinctive construction endeavors throughout the local area. Take a look at a few notable past projects illustrating our diverse abilities and penchant for creating truly unique projects:
Owl House:
The Owl House is a "livable treehouse," designed by Coyote Hollow Construction founder, Ken Howlett. It features a unique style that blends seamlessly into its Bainbridge Island surroundings. Coyote Hollow Construction is adept at building quality custom homes and cabinetry. The Owl House is a 'livable treehouse,' with a stunning design executed by our founder and owner, Ken Howlett.
Ice cream parlor:
For this client, we recreated a classic American ice cream parlor in impeccable detail. We're extremely proud of our work and our careful attention to recreating the authenticity and realism of a classic portrayal of Americana.
Home theater:
If you're looking for a way to bring the magic of the movies into your own home, check out our previous work designing in-home movie theater rooms. We promise to make every entertainment experience an unforgettable one.
Chicken coops:
Our custom construction in Poulsbo, Bainbridge Island, and throughout Kitsap County, WA, isn't just for humans! We can help you design chicken coops that keep your feathered friends healthy and happy. Every coop we design is its own unique creation.
Regardless of the project you're hoping to complete, count on us to provide you with quality construction and skillful design. Reach out to us today to discuss the specifics of your project.
Call to Schedule a Site Visit
To learn more about the ways that Coyote Hollow Construction can help you make your dream home a reality, reach out to one of our friendly and professional representatives today by calling 360-598-4699. We'll schedule a free site visit to discuss your custom home potential.